ISO 13485: 2016 & CE CERTIFIED COMPANY...
PNEUMATIC LITHOTRIPTER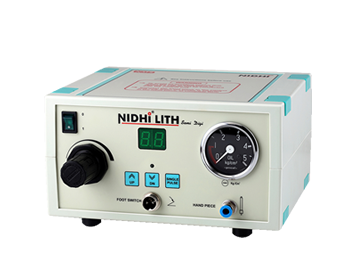 "NIDHILITH Digi" is very effective, safe, inexpensive and more reliable device for intra corporeal lithotripsy by means of direct contact Pneumatic Lithotripsy under endoscopic vision.
It is microprocessor based digitally controlled pressure flow device, which generates high accurate pluses in single pulse mode as well as variable continuous pulse mode for the fragmentation of stones in urinary system, i.e., Kidney, ureter and Bladder.
One of the marked and distinctive feature of "NIDHILITH Digi" is its rigid probe design. This results in rapid and safe fragmentation of the large and hard calculi situated anywhere in the urinary system i.e. kidneys, ureters and bladder. Therefore, there is no heat generation threat on the tip of the probe and following damage to the mucosa.
NIDHILITH Digi is mainly having four parts i.e. Control Unit, Oxygen Regulator or
Air Compressor, Handpiece and Rigid Probe. It is a foot switch operated highly precise microprocessor based electro pneumatic device, operated with a standard electrical supply as well as clean and dry compressed air. It is connected with the hand piece through flexible tubing. The rigid probe is connected to hand piece. The probe tip is placed in direct contact with the stones.
As soon as the control unit energizes by the foot switch, the compressed air enters the hand piece and propels a small piston against the base of the probe at a frequency from 1 cycles/sec to 12 cycles/sec. The ballistic energy is then transmitted through the probe into the stone, thereby fragmenting the stone.
Due to the design of rigid probe, generally NIDHILITH Digi is recommended for use with the rigid or semi rigid endoscope having straight working channel.
Product Profile
Technical Specification
Operating Instructions
Accessories
Download Catalouge
Product Profile
CONTROL UNIT

Attractive control unit molded with ABC plastic body.
Light weight, compact and mobile.
The vital feature is that the system transmits the pulses only after selection of the desired mode from the front panel and thereby eliminating a risk of injury due to accidental pressing of the foot switch.
This device generates highly accurate pulses in the form of single pulse operating mode and continuous pulse operating mode.
In multiple modes, twelve options are available to change the frequency from 1 pulse/second to 12 pulse/second.
No possibility of heat generation inside, hence; no chance of any thermal injury.
Pressure setting knob to set the desired pressure, which also facilitates constant monitoring of pressure via Digital display.
Most striking features of "NIDHILITH Digi" are safety and efficacy.

HAND PIECE

Light weight.
Long life.
Para medical staff can easily dismantle it for maintenance and immediate service.
Sterilization : Formalin chamber OR Cidex.

PROBE

Rigid lithotripsy probes are available in all sizes and compatible with any ureteroscope and nephroscope.
Cost effective and durable.
Sterilization : Formalin chamber OR Cidex.
Probes for Ureteric stones : 0.8 mm; 1.0mm; 1.2mm; 1.4mm – Length : 610mm
Probes for kidney and bladder stones : 2.0mm; 2.5mm; 3.0mm – Length : 450mm

OXYGEN REGULATOR

OPTIONAL ACCESSORIES

BLADDER STONE LITHOTRIPSY (LITHO BRIDGE)

To fragment bladder stone with the use of 25Fr Cystoscope Sheath (Karl Storz or Richard Wolf).

NIDHILITH VAC
NIDHILITH VAC is an additional component for use with NIDHILITH Digi- Intra Corporeal Pneumatic Lithotripter via suction hand piece, hollow probes and hand switch for PCNL & URS.

Features

It provides a better endoscopic vision as well as, ideal and safe stone location for disintegration in Ureter, Kidney and Bladder during lithotripsy.
During and also post lithotripsy, suction is provided for remaining fragments and stone-dust of ureter, kidney and bladder stones.
Technical Specification
Supply Voltage
230 VA/ 50Hz/± 10%, 110 VA C @60 Hz± 10%
Power Consumptions
30 Watts
Input Gas
Oxygen / Compressed Dry Air
In Let Pressure Range ( To Control Unit)
4 - 6 Kg / cm2
Out Let Pressure Indication
0 - 5 Kg / cm2 via pressure gauge
Freq. of Impacts
0 cycle per second - 12 cycle per second
Control Unit ( Made from rust free plastic body )
Size
L 250mm X W 155mm X H 230mm
Weight
2040 gms
Hand Piece ( Made from non toxic aluminium Alloy )
Weight
105 gms
Ureteroscopy Probe
Size
0.8mm, 1mm, 1.1mm, 1.2mm, 1.4mm, 1.5mm
Length
610 mm
PCNL Probe
Size
2.5mm, 3mm
Length
450mm
Lithobridge Probe
Size
1.5mm
Length
460mm
Operating Instructions
Before starting the surgery, make sure hand piece and the probe are duly sterile and assembled. During sterilization, 'sterilization / protection cap' must be placed on the Hand Piece.
Double check the working of the hand piece by energizing the control unit but ensure you do not have any physical contact with the probe tip.
SELECTION
PROBE
Ureteric Stone : Probes of 1mm, 1.2mm, 1.4mm are supplied as standard accessories for the use in Ureteroscopy. Probes of 0.8mm, 1.1mm and 1.5mm can be supplied on specific request. Select the probe which can pass through the scope easily reveling the smooth movement and better endoscopic vision. The bigger probe in diameter will help you in better fragmentation and reducing the procedure time. Standard probe sizes are 0.8 mm , 1mm, 1.2mm, 1.5 mm
Kidney Stone : Standard probe sizes are 2.5mm, and 3.0mm.
Bladder Stone : These stones are treated with Cystostomy with standard probe size 1.5mm.
FREQUENCY
Frequency can be adjusted to single pulse or multiple pulses.
Single Pulse : This is the ideal frequency for operating small and medium sized calculi.
This is considered to be a better pulse rate for controlled fragmentation.
Multiple Pulse : The pulses vary from 1 impact/sec to 12 impacts/sec. This mode is used for fast fragmenting hard as well as large calculi. For fast and controlled fragmentation it is advisable to keep the range between 5 to 8 impacts/sec.
PRESSURE
Ureteric stones : Between 1 kg/cm2 and 2.5 kg/cm2
Kidney Stones : Between 1 kg/cm2 and 4 kg/cm2
Bladder Stones : Between 1 kg/cm2 and 4 kg/cm2
ROUTINE MAINTENANCE
After every surgical procedure, dismantle the Hand Piece completely, clean all the parts gently applying the spirit by dry cotton and ensure that no foreign particle enters the cylinder. Do not use harsh detergents to clean. The liquid soap / light detergents can be used for cleaning the Hand Piece and its parts.
Accessories
| | |
| --- | --- |
| NIDHILITH Control Unit | 1 No. |
| Hand Piece | 2 Nos. |
| Probe Set | 1 set [6 nos. probes] |
| Pneumatic tubing to connect with hand piece | 1 No. |
| Pneumatic tubing to connect with control unit | 1 No. |
| Mains Cable | 1 No. |
| Foot switch with cable | 2 No. |
| Protection Cap-hand piece | 1 No. |
| Regulator for Oxygen Cylinder | 1 No. |
OPTIONAL ACCESSORIES
Bladder attachment
Litho Bridge
1 No.
Sheath (22fr/ 23.5fr/ 25 fr)
1 No.
Bladder probe.
2 No.
Download Catalouge